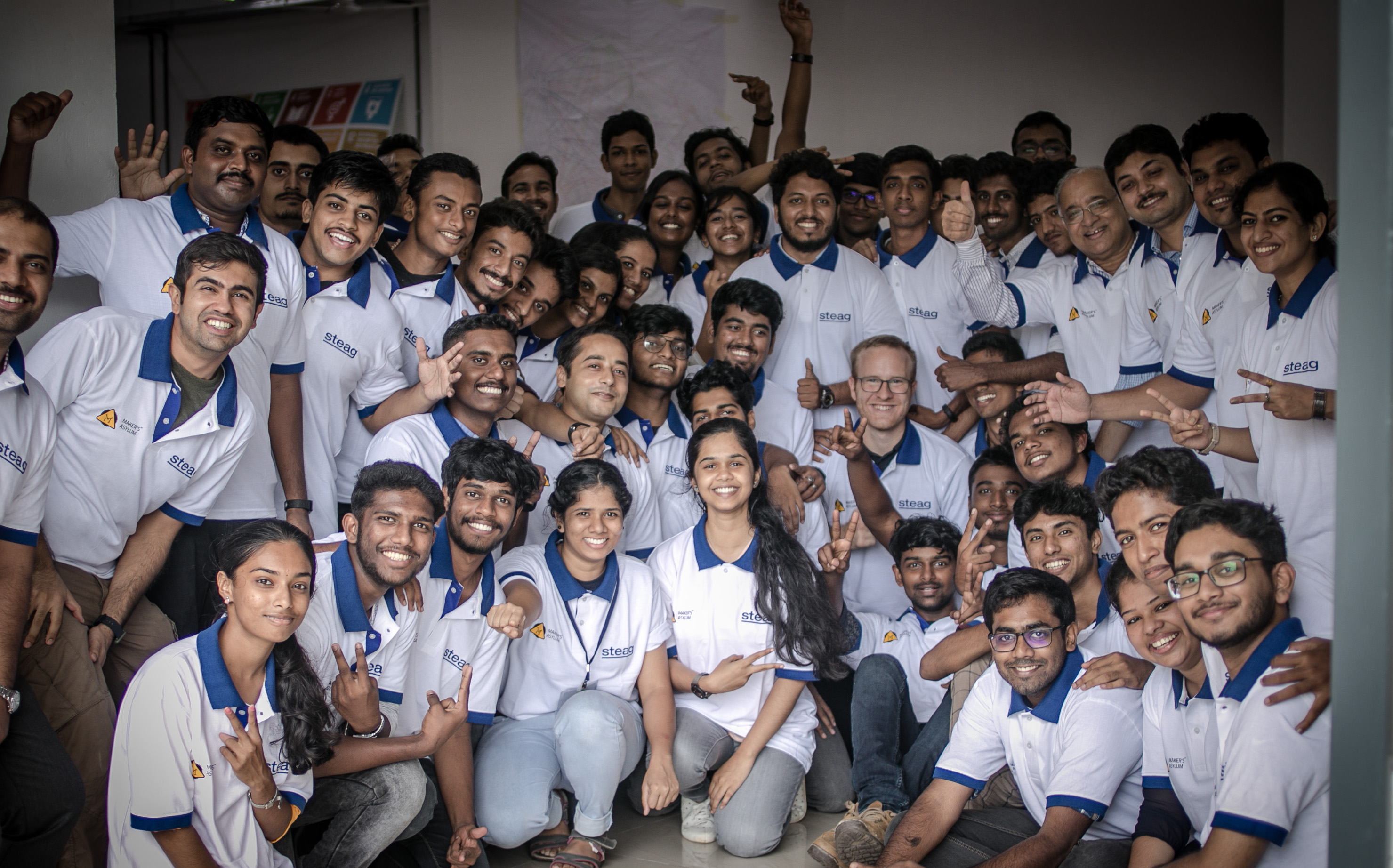 Welcome to STEAG
Centre for Smart City Technologies at Rajagiri School of Engineering and Technology, Kochi, India (RSET)
As part of Rajagiri School of Engineering and Technology's efforts to foster greater collaboration between Academia and Industry, the Steag Centre for Smart City Technologies has been set up within the campus. The Centre is a joint initiative of Rajagiri and Steag Energy Services, India which is one of the leading providers of services in the power generation and transmission sector. Steag Energy Services India is the wholly owned subsidiary of Steag Energy Services GmbH and part of the German based Steag group which has an installed generating capacity of over 11000 MWs of coal, wind, solar, biogas, mine gas and geothermal plants. They also own and operate a 90 MW battery storage system. With over 1600 full time employees in India and a portfolio of services covering Engineering, O&M and IT solutions, Steag counts several important public and private entities as their clients.

They are currently also associated as the Owner Engineer for the Waste to Energy Plant coming up at Brahmapuram at Ernakulam . The Steag Centre for Smart City Technologies has been set up to develop the capacity of students to innovate based on the principle of learning by doing. Housed in an area of over 4000 sq feet, Centre is equipped with facilities like 3 D printers, CNC routers, laser cutters and electronics and software to enable the students convert their ideas to prototypes in a space which they can call their own. Mentors from the faculty and the Centre as well as outside domain experts work closely to help the students.

There is enormous enthusiasm generated within the student and faculty community who have already formed a large number of project groups and have started availing of the facilities even as they were being developed. The facilities of the Centre will be also open to anyone who wants to develop an idea up to the prototype stage on the condition that the project team will include students of the Rajagiri group of institutions and projects will be in the field of energy, mobility and recycling of materials focused on the requirements of a Smart City. The Centre intends to work closely with other stakeholders such as industries like Cochin Refinery, FACT, Cochin Shipbuilding Yard, Kochi Metro, Kochi Water Metro, Kochi airport, Kochi Smart City Mission Ltd., Fraunhofer Innovation Hub, the Kerala Start up Mission institutions like Makers Village, Fablabs, Government institutions and think tanks to channel the enormous talent of over 4000 Rajagiri faculty and students at graduate, post graduate and doctoral level in engineering, social sciences and business studies to foster a culture of entrepreneunership and find innovative solutions for the city of Cochin.

It is expected that these solutions will also have application in other cities of India and the world. Students and project groups can access the Centre by advance booking the facilities and mentors through a user friendly website or walk in when they have the time. The facilities are open flexibly so that project teams can work there without affecting their attendance at the academic sessions. The Centre is one of the several Indo German initiatives in the city of Cochin. Germany is assisting in capacity building of the Cochin Smart City Mission Ltd with assistance from GIZ and Kfw is financing components of the Kochi Metro project. Last year Fraunhofer started a Innovation Hub in Kochi. Rajagiri has been also been hosting a bi- annual Indo German Summit to foster collaborative programs with German Universities and it is planned to have students from German Universities to join students of Rajagiri in the training programs at the Centre for Smart City Technologies from 2021 onwards. It is expected this will result in several international co-operation projects in the years to come to tackle the challenges of rapid urbanization. Steag Centre for Smart City Technologies was formally inaugurated by his Excellency the German Ambassador to India Mr Walter J. Lindner on 24 th January 2020 in the presence of the Fr. Mathew Vattathara, Director RSET, Dr Ralf Schiele, CEO of Steag Energy Services GmbH and Dr Jacob T Verghese, Chairman, Steag Energy Services India and invited guests

To serve as center for research in the area of Smart City Technologies with an initial focus on Smart Mobility, Smart Energy and use of recycled materials in Smart cities using the city of Kochi as the pilot

Provide graduate, post graduate and doctoral students the facilities and environment to carry out projects related to the identified segments of Smart City Technologies

Run special academic programs for its own students as also for the students of other universities apart from special programs for industry

Foster collaboration between the RSET and German and Indian industries and universities to take up cutting-edge projects in Smart City technologies

Organize and participate in seminars to disseminate knowledge and awareness of the techniques and technologies, which Smart cities can use to reduce the impact of climate change and enhance the quality of life for its residents.